Not only do exams affect your student's future, but they also affect your organization, so you need to be very particular about how they are delivered and managed. After all, your brand's reputation is at stake, not to mention your integrity and intellectual property (IP) rights.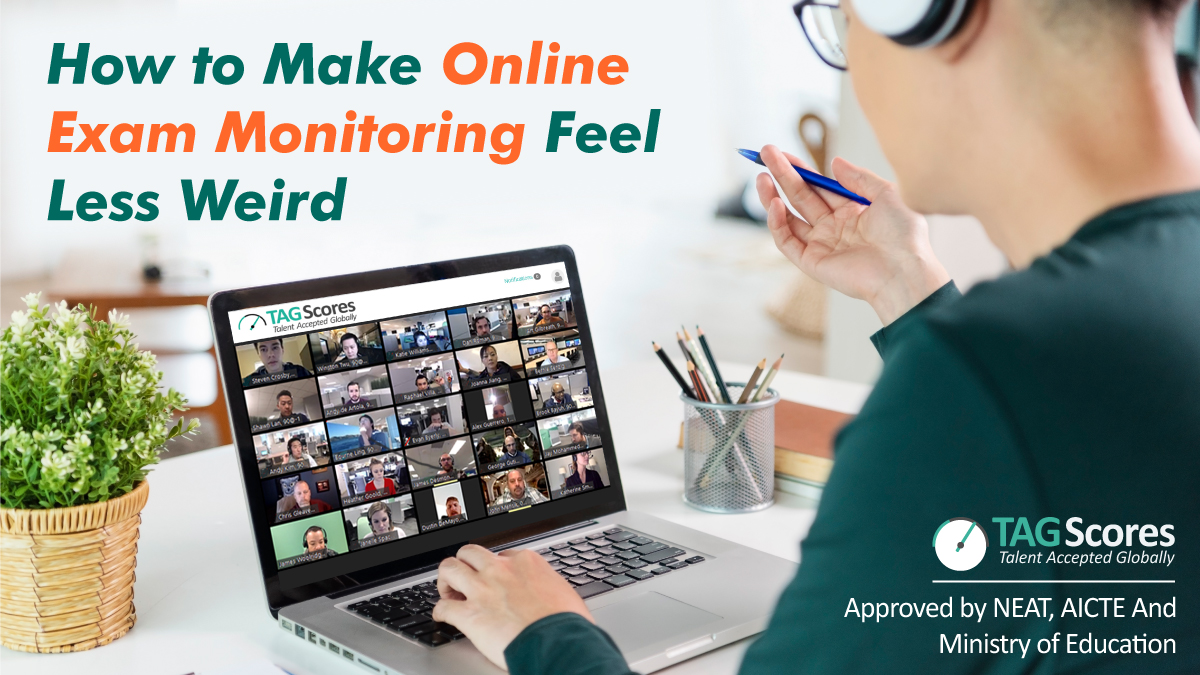 The Demand for Online Exam Monitoring Software
With more and more people turning to online learning, and with the full impact of the pandemic still unknown, the need for online exam monitoring is also increasing. And since our educational system is so heavily dependent on exams, any major changes to the system will require a lot of thought and consideration, as the security of those assessments would have to be given top priority.
Why Do We Have to Monitor Student Exams?
Studies have shown that, as with classroom assignments, the number of instances of malpractice will increase substantially if the exams are not monitored. Therefore, and unfortunately, there is a need for monitoring during the examination process to prevent students from circumventing the guidelines during the exam. The exams can be proctored live or videotaped for later examination as a means of confirming the identity of any would-be violators.
Online proctors are trained to detect when unauthorized devices or actions are being employed by the students. This step is necessary to preserve the integrity of the process and to make sure each student is deserving of the grade they are awarded.
How Do Students Feel About Being Monitored?
According to online chat rooms and discussion boards, as well as a debate covered in the New York Times, the consensus among a majority of opinions is, a certain number of students will try to cheat, albeit a small percentage. That is why a lot of students welcome the idea of a proctor to monitor the exams. It is no different from in-class learners.
Most of the students seem to understand that, without such security measures, some students will be given an unfair advantage. And yet, many of them were concerned about the prospect of proctors having remote access to devices. This caused some anxiety among the students who felt that the very idea was a little creepy and increased their concern about vulnerabilities.
So, as an educator working in concert with your online proctor vendor, it is your job to minimize as much as possible the anxiety felt by the students by having open and honest discussions with them, and by using the latest technology to protect their privacy.
You're Being Watched
With online exams being taken from within the home - kitchens, living rooms, and even bathrooms - it is understandable that some students may feel a little uncomfortable knowing that a proctor is looking on. Using minimally invasive technology will go a long way in alleviating those fears.
Take the PSI lockdown browser for example. It can be downloaded before the exam and removed immediately afterward. Both downloading and removing only takes a few seconds. It creates a fair testing environment for the proctor that prevents students from cheating - copying and pasting from another application or website - while protecting the privacy of the student. This is a much better option, and far less intrusive, than having full remote access to a student's computer. The proctor can see exactly what programs the student has open on his device, and close them if necessary. He could even change the desktop wallpaper if he wanted to.
In some instances, the proctor's work is supplemented by AI (Artificial Intelligence). Even though this use of technology adds to the accuracy and efficiency of the monitoring process, it can also increase the degree of anxiety of having someone looking over your shoulder. But the students can be reassured in the fact that it is not AI, nor the proctor who has the final say on whether their exam is valid or not. Instead, it is the education adviser who has the last word. Equally important is the fact that there will always be recorded evidence in the online examination system proctor software in case there is a dispute. But, all recorded evidence will be permanently deleted when it is no longer needed.
What About Data Privacy?
Today, there is a greater focus on protecting data privacy than ever before. For one thing, an increasing number of students are tech-savvy, so they are acutely aware of the risks involved in sharing personal information online and demand to know if their PII (Personally Identifiable Information) will be protected.
But, if your LMS (Learning Management System) is LTI (Learning Tools Interoperability) equipped, it will mesh seamlessly with our online proctoring software. Teachers and students are granted access via a single sign-on, eliminating the need for separate accounts, and for the need to enter their PII twice.
Requiring users to create multiple accounts where they'll have to provide their PII and other demographics more than once is completely unnecessary. A good LTI will eliminate the need for redundancy by leveraging the user's LMS enrollment application without the risk of further exposure of his PII while creating more harmony between the two systems. Moreover, popular systems like Moodle, Canvas, Blackboard, Desire2Learn, and Sakai are all LTI compliant.
With LTI integration, students will be able to take their exams from the comfort of their own homes using a single sign-on, making the sign-on process effortless and secure. LTI integration also lets students take practice exams in their new, secure learning environment without fear or anxiety.
Don't Be Afraid to Voice Your Concerns
It is the educator's job to listen to, and help eliminate, any concerns you may have about the online exam for students' online software proctoring process. The answers to FAQs should be provided online, as well as a point of contact so that the instructor is easily accessible.
When clear channels of communication are established, using the latest technologies and best practices, research has shown that student-experience between onsite and online proctoring are virtually the same. This knowledge should make the transition from onsite to online proctoring smoother and less stressful for both students and teachers alike.
Thanks for the reading Tagscores blog. Please feel free to ask anything about Online Exam Monitoring Software in WhatsApp.
For more information, please read our latest blogs here.